St Aloysius' College plans to open a new campus on a vacant parish site in western Sydney that would become the version of the Jesuit School of Retirement Timbertop in Geelong Grammar and offer a community service-oriented program for boys in the middle years of high school.
School principal Mark Tannock wrote to parishioners at St Joseph's Catholic Church in Rozelle, which owns the site of the old school, outlining the plan to house the students there during renovations to the main site in Rozelle. Milsons Point and to create a satellite campus focused on the transition to manhood.
Mr Tannock said the campus will emphasize the creative arts as well as academia and provide opportunities for community service.
"Boys this age are often trapped in their own orbit," he told the Herald. "They tend to get a bit lost when they reach the age of 14 or 15. Making them understand in the community that they have obligations under these privileges is something else we would like in this program.
"Geelong can do his Timbertop, but we could do something different in the city center. "
Mr Tannock said the college planned to renovate its high-rise campus at Milsons Point, which would involve building additional classrooms above the courtyard and moving the playground to the top of the building.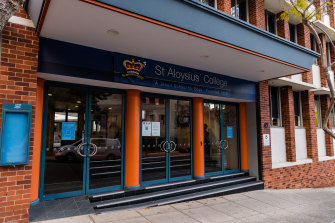 While this work was in progress, the school would need to find space for an age group. But he also wants to develop a new approach to the middle of adolescence, and the Rozelle campus will be an opportunity to give boys a different experience.
Mr Tannock said nearly a third of student families now come from the western interior. If approved, the Rozelle site would open in 2023.